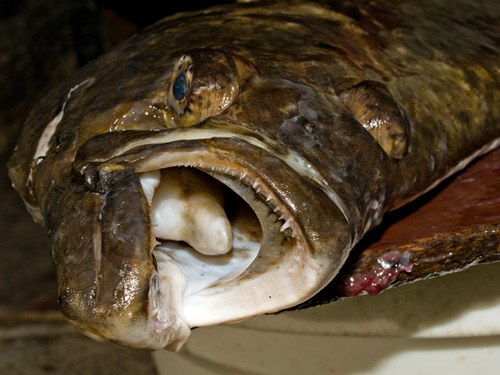 Taken with Olympus E500 digital camera June 10th 2007. Click image for larger view.
In this picture you can see a close up shot of an Atlantic halibut (Hippoglossus hippoglossus) that I fished earlier this year. This fish is so tasteful that my mouth waters just by writing this and despite it looks, its my favorite fish to eat 😉
The Atlantic halibut is one of the biggest flastfishes on our planet. It can become over 3 meters long and weigh well over 300 kg. The one I caught wasn't not even close to those sizes and weighed about 4-5 kg. It still gave me quite a fight when I tried to reel it in with my fishing rod.
If you should ever have to luck of getting a big Atlantic halibut you have to be careful when you get it into your boat. I have heard a story about a man that was found dead with the halibuts tail deep inside his breast. They are very powerful!
Check this picture for a view from my fishing boat and this one of my uncle steering the boat to rich fishing grounds. Also follow Photos from Northern Norway on Facebook.

Information about the picture:
Camera: Olympus E-500 digital SLR camera
Exposure: 0.006 sec (1/160)
Aperture: f/11
Focal Length: 35 mm
ISO Speed: 100
Lens: Olympus Zuiko Digital 35mm F3.5 Macro
Flash used
Location: Laupstad (Andørja), Troms in northern Norway